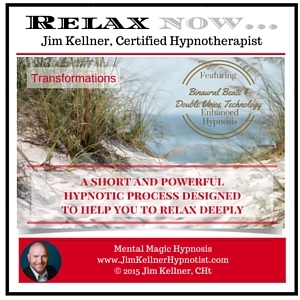 Relax Now... (Mp3 Download)
SKU 00002
Product Details
This short but powerful hypnotic process is designed to help you to relax, far easier than ever before and live a happier healthier life. Hypnosis is the most profound and powerful method of focused concentration known to science.
By listening to this process you'll be programming your subconscious mind to;
Consciously Relax Your Body At Will

Unconsciously Remain Relaxed During Difficult Situations

Remember To Forget What Your Were Previously Stressed About

Featuring the latest in technological advancements in binaural beats and double voice technology for an enhanced hypnotic experience and includes detailed instructions on how to utilize the recording for optimal results.

Created and recorded by noted Author, Speaker, Stage Hypnotist and Certified Hypnotherapist, Jim Kellner

Each recording has been digitally mastered to ensure the most effective and enjoyable listening experience possible.
This Mp3 download will be delivered to your email inbox immediately. If it's not please let us know.
18 minutes in length.
Save this product for later