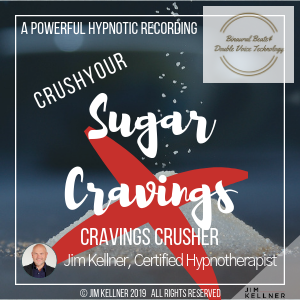 Crush Sugar Cravings & Drinking More Water
SKU 00027
Product Details
This powerful hypnotic process is designed to help you to crush those sugar cravings which can derail your best efforts. It will also help you to increase your water to the perfect amount for you. Hypnosis is the most profound and powerful method of focused concentration known to science.
By listening to this process you'll be programming your subconscious mind to;
Avoid Sugary Foods

Crave Pure Clear Water

Resist Temptations Which May Arise
Featuring the latest in technological advancements in binaural beats and double voice technology for an enhanced hypnotic experience and includes detailed instructions on how to utilize the recording for optimal results.
Created and recorded by noted Author, Speaker, Stage Hypnotist and Certified Hypnotherapist, Jim Kellner

Each recording has been digitally mastered to ensure the most effective and enjoyable listening experience possible.
For accelerated and best results I recommend one-on-one work directly with me. I will formulate the very best strategy to help you achieve your specific desired outcome. I make this option available for those that are unable to commit to the higher investment in personal hypnotherapy.

This Mp3 download will be delivered to your email inbox immediately. If it's not please let us know.
Save this product for later